Businesses all over the United States rely on Amuze Products to increase revenue. Our massage chairs turn empty space into cash and will turn your customers into raving fans. Now Amuze Products gives you a whole new way to turn empty space into money with the latest and most popular arcade games.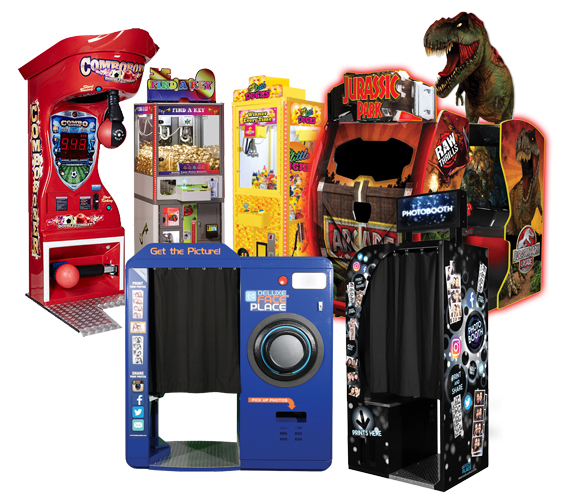 Add arcade games to your location today! It's the same simple process as our massage chairs: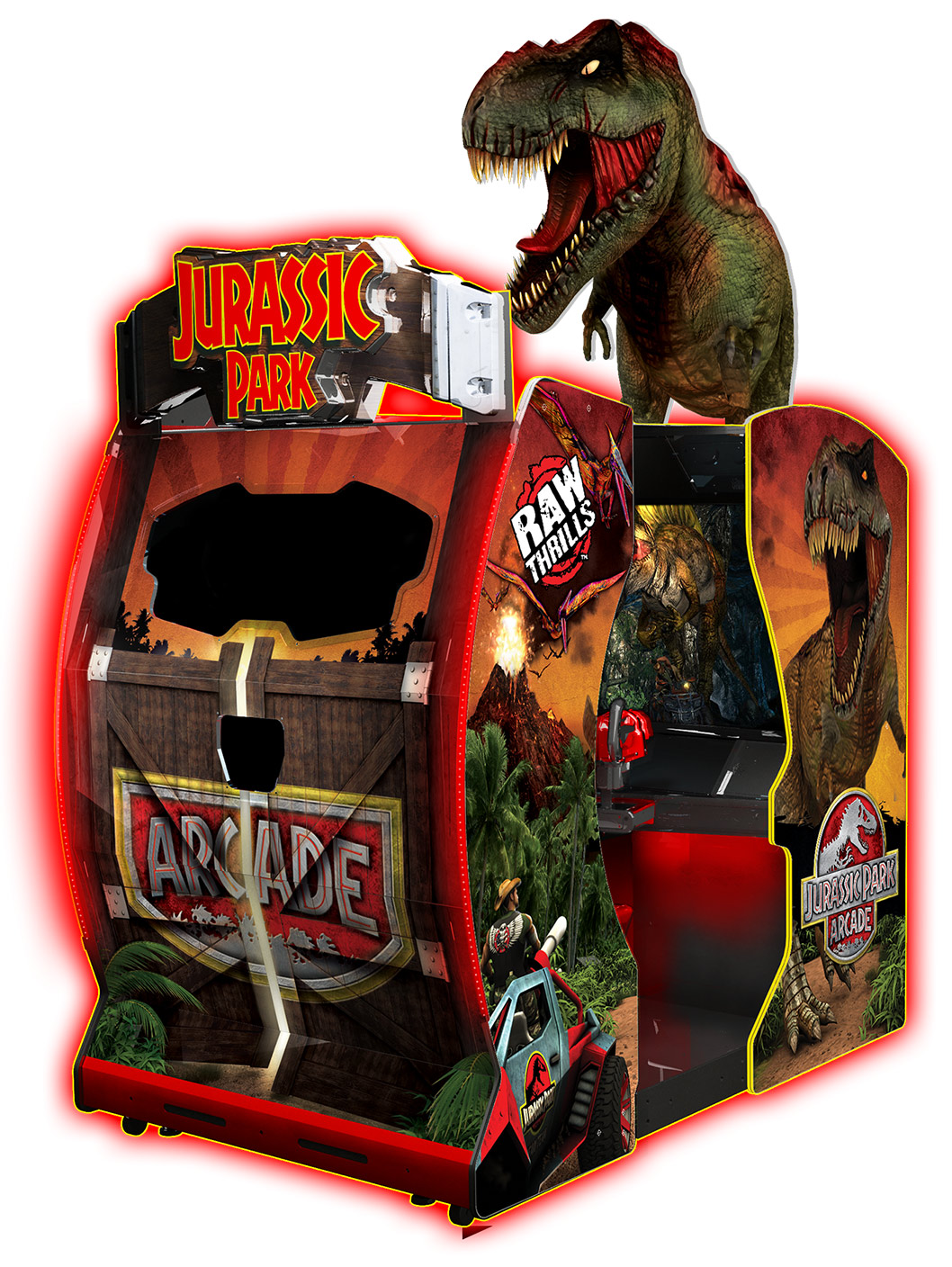 Jurassic Park Arcade™ Game
In Jurassic Park Arcade™ you must rescue the dinosaurs on an island run amok! Use your high-powered tranquilizer gun to subdue menacing dinosaurs and restore order to the island.
Features
Based on the hit movie franchise
Massive 55″ HD LCD display
Family-friendly gameplay
9 exciting missions
Over 30 species of dinosaur
High-reliability guns
Over 1000 dynamic color-changing LEDs
Cutting-edge graphics and sound
Lighted giant dino-topper and Jurassic Park logo

Weight: 600 lbs.

Shipping weight: 700 lbs.

Master Dimensions: 68 in x 45 in x 92 in (68 in tall without dino topper)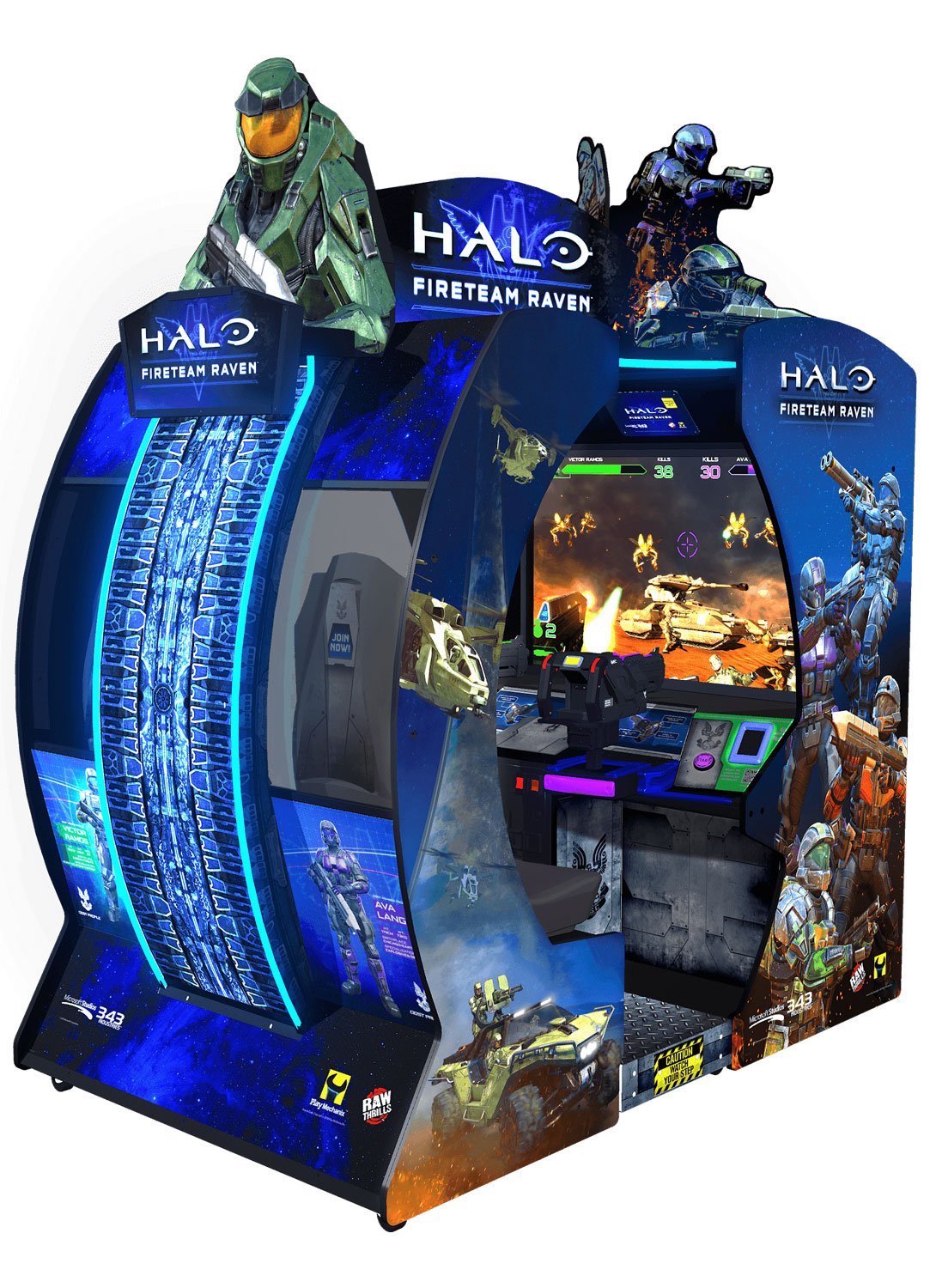 Halo Arcade Game: Fireteam Raven
Set in the timeframe of Halo: Combat Evolved, this arcade experience hot-drops players feet first into the boots of Fireteam Raven – a group of elite Orbital Drop Shock Troopers (ODST) on the surface of Alpha Halo fighting alongside the Master Chief and the rest of the UNSC as they try desperately to prevent the alien Covenant alliance from taking control of the ancient super-weapon.
Features
2 Player




Officially licensed by Microsoft




Stunning 55″ 4K Display!




Intense 2-Player Action with Force Feedback Guns!




Immersive 5.1 Surround Sound Puts You in the Battle!




Players Can Easily Link Their XBOX

Live Gamertag/Accounts Via QR Code for Exclusive Stat's & Rewards!




Location: 99.9″H x 53.5″W x 83.2″D




Main Cabinet : 48″D x 58″W x 86″H




Seat: 40″D x 58″W x 86″H
Face Place Deluxe Photobooth
Our signature photo booth with great curb appeal. This giant camera and lens is a proven focal point in large locations like malls, bowling centers, family fun centers, resorts, and amusement parks. It's our largest enclosed photo booth and creates great memories for groups of all sizes.
Features
Touch Screen Navigation

Mitsubishi Dye-Sub Printing System

Caster Wheels

Records Audio & Video




Customize Borders & Backgrounds




Captures Photos on Flash Drive




Customer Logos on Product




DBA & Stacker (standard)




Credit/Debit Card Capability (standard)




70.00″L x 36.00″W x 83.00″H

809lbs.
Film Capacity: 600 Vends per Roll
Available Colors: Blue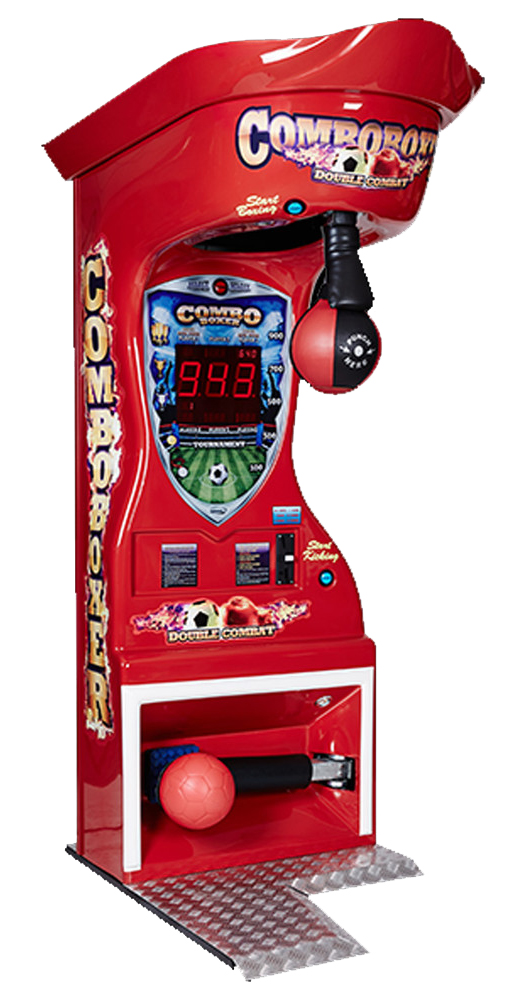 Let your customers punch or kick their way to a record-breaking high score with our ComboBoxer Machine! This is actually two games in one – with both a kicking game and a punching game. Both games have the option to play individually or in tournaments for up to six players.
Features
Free game mode
Difficulty levels
Works with bills and coins in all currencies and tokens
Works with coin- and bill acceptor simultaneously
Unbreakable record setting
Manual high score resetting
Flashing halogen lights mode
Solid mechanism
Rubber legs
Electronic coin acceptor included
Compact two game machine (boxer+kicker)
Modern type soccer ball (without bladder)
H 90″ x W 36″ x D 51″, weight 351lb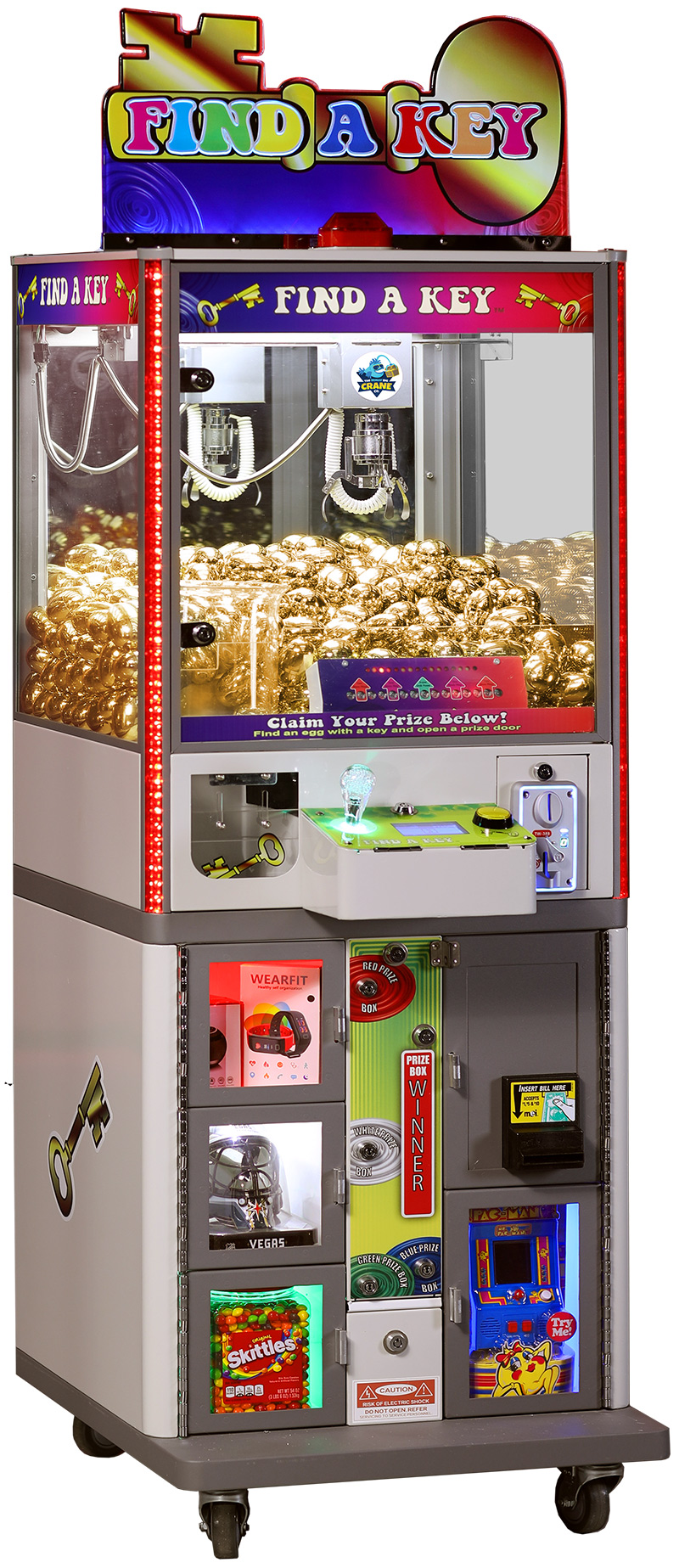 Find a Key is a claw machine that features attractive LED lighting and an all-metal design to ensure ultimate durability. This crane machine game features built-in prize doors and customizable claw strength to meet the requirements of your gamers. This crane machine boasts an optional mode for facility operators to run as a winner every time!
Features
Built-in prize doors with individual color matching keys

All metal cabinet




Attractive LED lighting




Fully programmable




Claw strength and transport voltage adjustable




High claw strength also can be optioned with LED game positioned at top of crane




Can be run as a winner every time




All general illumination LED fixtures
This is the Play Meter 2014 "Operators' Choice" Award winner for Best Photo Booth. Similar in size and construction to the Ruby model, the Sapphire adds the additional dimension of a beautiful cabinet perfect for bars, clubs and restaurants. The rich, black facade features a lighted marquee that can be easily customized with slide-in panels.
Features
Touch Screen Navigation




Mitsubishi Dye-Sub Printing System




Caster Wheels




Small Footprint




LED Top Monitor




Records Audio & Video




Customize Borders & Backgrounds




Captures Photos on Flash Drive




Customer Logos on Product




DBA & Stacker (standard)




Credit/Debit Card Capability (standard)




37.50″L x 28.50″W x 76.00″H

477lbs.

Film Capacity: 600 Vends per Roll




Available Colors: Black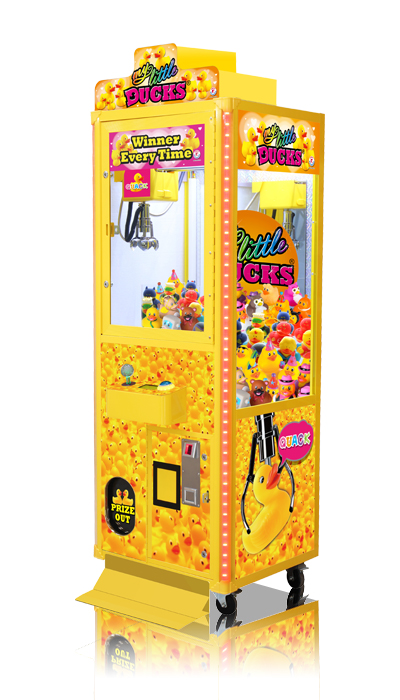 My Little Ducks Crane Game
Smart introduces the first crane game featuring ducks. My Little Ducks comes in a 24″ x 24″ cabinet and features a delightful rubber duck-themed graphics package and a lower front anti-tip plate. This one is sure to be a hit with your customers.
Features
3 Finger Scoop Claw




Single Mechanical Coin Mech




DBA Ready (Game has single coin mechanism when using DBA)




4-way Joystick




Credit/Timer Display (7 segment LED)




"Play Till You Win" (On/Off Dip Switch setting)




Prize Detection System




Interactive Sound System




Multi-colored Rope Light Corners with speed and pattern control




High Security 18 Gauge Steel Console




Steel security padlock tabs on console and front glass door




Tamper Resistant / Coat Hanger Proof Cabinet




Independent Locking Coin Box




Tempered Safety Glass




Standard cabinet colors: yellow or black




Prize Hole: 5.5″ x 8″
We have many other arcade games available. Contact Amuze Products today for more information about all of our latest and most popular arcade games!
To start generating revenue with Amuze Products, email rick@amuzeproducts.com or call 706-338-5506.
61141 S Hwy 97, Suite 180
Bend, Oregon 97702
Contact us today to learn how you can turn any space into profit!